Tahitian™
$0.00

Seats 6 Adults

213 x 213 x 91 cm

48 Jets
The Tahitian™ spa pool is our all-rounder model that pleases everyone from those planning a party or looking to complement their workout routine. Designed to please, the Tahitian is loaded with features that will work up to their reputation, day -in and day-out.
STYLE SELECTOR | *Click the swatch icons below to view colour combinations
Compare Spa Models
Spa comparison tool
Add this model into your spa pool comparison table. You can select up to 3 models to compare.

"I would highly recommend the Tahitian™ - it is just the right size (not too big or small) and has every feature you could want."
Tahitian™ Jet Systems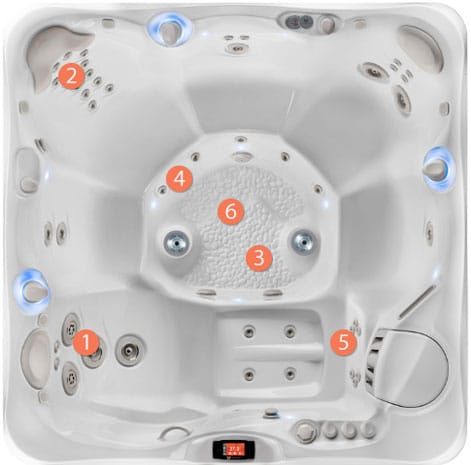 1 - UltraMassage™
Seat or lounge (varies by model) for neck, shoulder and middle back massage.
2 - Ecstaseat™
Multiple jets focus on large muscles in your back. Select models work on wrists and calves.
3 - LumbarSsage™ Seat
A unique jet configuration relieves tension and pain in your back's lumbar region.
4 - Angled Calf Jets
In Utopia™ models they work on muscles in the lower leg.
5 - Sole Soothers™
Jets stimulate and revive the muscles in your feet that bear your full weight all day.
6 - Foot Ridge™
Anchors and holds you in place while powerful jets work on sore muscles.
Tahitian™ Spa Pool Features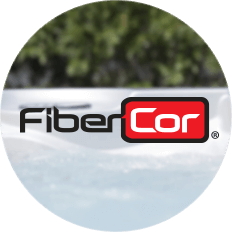 FiberCor® Insulation
All Caldera® Spas feature FiberCor®, an innovation that revolutionises spa insulation. Applied at 32 kg/m3 density, FiberCor® is 4-times denser than regular 8 kg/m3 Urethane foam.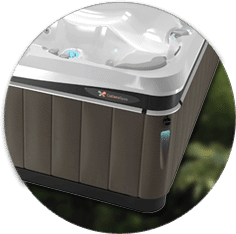 Avante™ Cabinetry
Our Utopia Series spas feature the beautiful and multi-dimensional Avante™ all-climate cabinetry, a durable material that will withstand harsh weather elements. Available in Sand, Slate and Brownstone.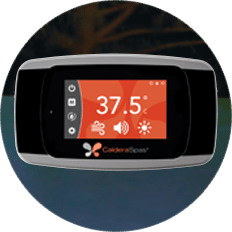 Advent™ LCD
Your daily hydrotherapy experience is easily managed with our intuitive Advent™ control panel which gives you complete control over water temperature, jet systems and ambient lighting effects.
360° View
Drag the spa pool left or right to see a detailed, 360-degree view of the spa seating, jet placement, spa shell and cabinet. Turn the spa to see the hot tub depth and look closely at the available jets.
36 Euro, 4 VersaSsage™, 2 AdaptaFlo™, 2 AdaptaSsage™ , 2 OrbiSsage™, 2 Euphoria™
2 ReliaFlo™ Pumps 1 Dual-Speed 2.5 HP (5.2 HP BHP**) & 1 Single-Speed 2.5 HP (5.2 BHP**)
Advent™ LCD Touchscreen with Auxiliary control pad
EnergyPro™ Circulation Pump
EnergyPro™ Heater (2,900 Watts)
ELECTRICAL REQUIREMENTS***
Spa Frog™ **** Cartridge Ready
1 Acquarella™ Waterfall w/LED lighting
MULTI-COLOUR LED LIGHTING
SpaGlo™ Multi-Zone Lighting including 10 Points-of-Interior Lights and 4 Corner Exterior Lights
Diagnostic Logo Light mounted in Spacer (between shell and cabinet)
Arctic White, Midnight Canyon, Pacific Rim, Pearl, Platinum, Tuscan Sun
ProLift™ II, ProLift™ III, or ProLift™ IV
OPTIONAL ENTERTAINMENT SYSTEM
Wireless sound system with Bluetooth® technology, Wireless TV (optional)
Filled weight includes the weight of the occupants assuming an average weight of 80 kg.
** Brake Horsepower (BHP) is the horsepower a pump motor achieves for a brief period upon start-up.
*** Other configurations available.
**** This system is approved for use in the following countries: Austria, Canada, Denmark, France, Germany, Ireland, Italy, Norway, Portugal, Sweden, UK, USA.