Entertainment Systems
Relax With Your Personal Soundtrack
You know the feeling when your home entertainment system is on inside the house? It can relax, release tension, clear your mind and take you away to another place. Imagine what your spa entertainment system can do.
When soaking in your Caldera spa, you are already experiencing the transformative effects of warm water immersion. Imagine listening to your favourite soundtrack whilst you receive an invigorating, or relaxing massage at the same time. With your Caldera spa entertainment system, you'll relax both your body and mind all at the same time.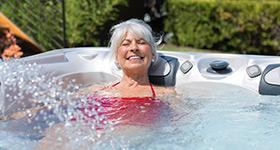 Bluetooth Wireless Sound System
Listening to your favourite music whilst in your spa pool has never been easier. With a wireless sound system with bluetooth connectivity means you can just set, and forget. Then let the music and the water weave their magic.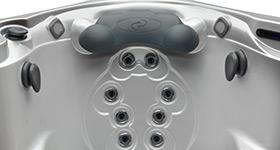 Integrated Speakers - Utopia™ Series
Our Utopia® music version model features three pairs of 2.5 cm low profile speakers that surround the contoured pillow headrests. These integrated waterproof speakers produce a robust, high quality sound driven by the Wireless Sound System with Bluetooth® Technology as well as a separate subwoofer.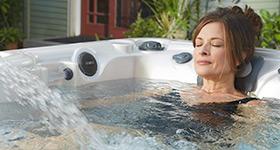 Integrated Speakers - Paradise™ Series
Our Paradise Series music version spa includes integrated 9 cm waterproof speakers. We place these speakers strategically throughout the spa to maximise great sound quality. They feature the Wireless Sound System with Bluetooth® Technology and a separate subwoofer.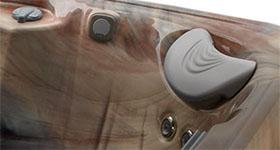 Vacanza™ Series
W can arrange for most Vacanza models to come with the Bluetooth® enabled Wireless Sound System with strategically placed speakers to enhance the complete spa experience. A separate subwoofer is also an optional extra.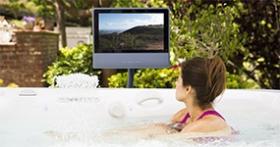 High-Definition Spa Pooling
Take your spa experience to the next level with an optional 55 cm high definition display. HDMI and USB connectors accommodate a variety of streaming and cable devices and pairs with the wireless entertainment system. The ultimate in spa entertainment.