Spa Pool Covers & Lifters
Making Your Spa Experience Simple With Great Design
When indulging in your spa, we want it to be as simple as possible. A spa cover lifter is an essential part of the Caldera Spas experience. The intuitive design of the spa covers and lifters provide adequate leverage so that even a single person can easily fold back the cover. Who wants to wrangle a spa cover before and after your relaxing soak? Simply fold back, move out of the way and your spa awaits you.
Designed exclusively for Caldera Spas, our ProLift™ Spa Cover Lifter Systems give you easy access to your spa and minimise wear and tear on your spa cover. Our cleverly designed spa covers act to maximise energy efficiency and water retention to complete the perfect spa pool cover and lift combination.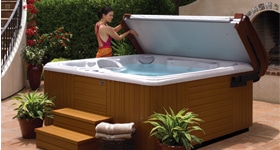 ProLift Spa Pool Cover Lifter
The ProLift is a great, basic cover lifter, attaching to both cover and cabinet with a built-in safety lock feature. Just lift, glide and fold away. Requires 36 cm clearance.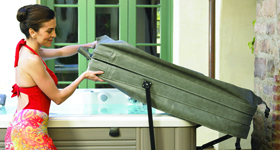 ProLift II Spa Pool Cover Lifter
Similar in design to the ProLift III, the ProLift II uses a single pneumatic gas shock lifter for smooth operation. Requires 76 cm clearance.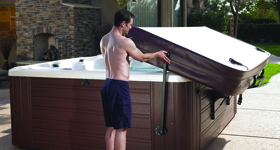 ProLift III Spa Pool Cover Lifter
The smoothest and quietest lifter, the sturdy ProLift III lifter has two pneumatic gas shock absorbers. Very little effort is needed to lift and replace the cover (even on larger models) with the springs doing the hard work for you. Requires 76 cm clearance.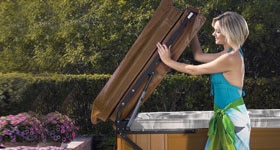 ProLift IV Spa Pool Cover Lifter
Where clearance space is limited such as on hot tub decks or gazebos, the ProLift IV allows you to position the cover vertically, just behind the spa. Requires only 46 cm clearance.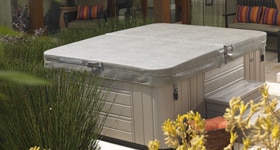 Replacement Spa Cover
Custom fit to Caldera spas, we design our spa covers for maximum energy efficiency and water retention. the tight seal insulates and locks in heat, keeping your operating costs down. Their clever design features a tapered cover for water runoff, made from durable, marine-grade vinyl. All Caldera covers include child-resistant safety locks and mounting plates for attaching the optional cover lifter systems. Our covers also meet or exceed all ASTM safety standards for UL classification.