Poolside Spa Accessories
Spa Accessories For Your Every Need
Our Caldera spas come with the latest in design innovation and technology to ensure the ultimate in spa luxury. Step it up to the next level with our array of convenient and safety spa accessories to complement your chosen spa model.
Whether you are looking for additional safety accessories to help you enter and exit the spa with ease, an umbrella so you can soak in all weather conditions, or a towel tree for added convenience – we have accessories to suit.
Steps for spas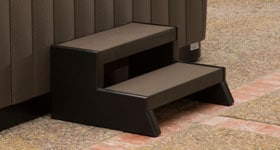 Avante Steps
Step into your spa with ease with the Avante steps. Made to match the Avante all-climate cabinet on our Utopia Series models. Available in Slate, Brownstone or Sand.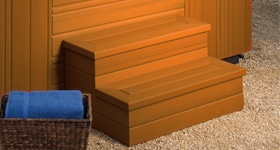 EcoTech Steps
Step into your Caldera spa safely and easily. Our durable EcoTech Steps are the perfect match to our spas, made from the same material as our exterior EcoTech cabinets. Available in Coastal Grey, Espresso and Redwood.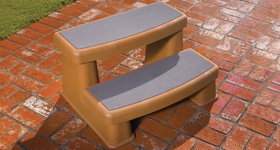 Polymer Steps
The lightweight, economical 32″ step is a hardwearing, durable and recyclable step option. Available in Coastal Grey, Espresso and Redwood.
Accessories for spas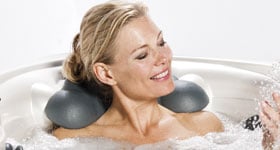 Replacement Pillows
Pillows can be the most popular accessory on our Caldera spas. When it's time to replace your spa pillows, speak to your Caldera dealer for the pillows that were custom-designed for your spa model.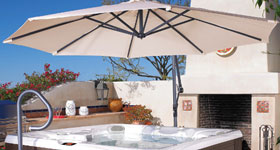 Spa Side Umbrella
Soak in sunshine or in the shade and rain with our large 298 cm diameter umbrella. This large canopy can pivot to cover either your spa or patio. The base easily slips under the spa cabinet to provide stability. Canopy fabric available in Cream or Navy.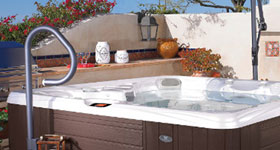 Spa Side Handrail
Designed to help you enter and exit the spa with ease. Our handrail pivots so the curved upper portion can face inward or outward for support when you enter or exit the spa. The base plate slips securely under the spa cabinet for stability.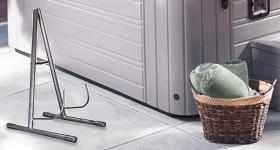 Spa Pool Cover Stand
With no hardware or assembly required, our sturdy stand is balanced to hold your Aventine spa cover. Constructed from rust-resistant, zinc-plated, powder-coated steel.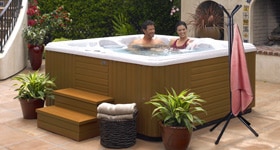 Spa Side Towel Tree
Be towel-less no more! Our towel tree allows you to hang towels or robes while you soak, or leave them to dry after use. Comes in black powder-coated aluminium.